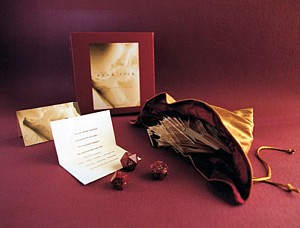 Eros Trix Deluxe

A game that will last a lifetime!

ErosTrix Deluxe - differs from any other game on the market in that it is beautiful and sensual in appearance as well as in content.

Designed to adorn lovers' chambers, ErosTrix can be brought into the bed (yes! under the covers), thrown into the weekend travel bag or rest alongside the oils and bubbles in the bathroom and everywhere in between! A World of Refined Sensations. ErosTrix game offers enticing invitations to an intimate sharing of sensual pleasures. Encased in a gorgeous box is a luminous carrying pouch made of red and gold Thai silk. Inside this pouch are three unusual dice and forty nine alluring cards, each depicts a scene and sets the ambiance for hours of love - play. To add to the mystery, each card is folded like an invitation.

Enclosed is a booklet filled with inspirations on how to "set your stage" and three blank invitations for you to write your very own script for a fantasy evening. Lots of games draw couples closer, there are few quite as sophisticated as ErosTrix, which can travel anywhere...

PPG2ETD     $38.00

Sorry, this game is no longer published